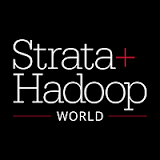 Striim is pleased to sponsor Strata + Hadoop World, March 29-31 at the San Jose Convention Center. Please visit us at booth #1230 to chat with our CTO and lead technologists about the latest advances in streaming analytics and real-time data integration. Check out a live demo of the Striim platform, as well as a number of specific use cases, including:
Real-Time CDC and Data Ingestion. Moving data in real time from transactional systems such as Oracle, MySQL and HP NonStop via real-time Change Data Capture (CDC) to a wide variety of targets including Hadoop, Kafka, AWS
Real-Time Pre-Processing for Big Data and Cloud. Ingesting and pre-processing streaming data (ie, filtering, transforming, aggregating, enriching data) before loading to Hadoop, Kafka, AWS, etc.
Security Hub and Monitoring. Multi-stre­am correlation and enrichment of security, application, and Web log data, with visualizations, alerts and workflows triggers
Real-Time Customer Profiling and Best Offer.

Enriching streaming events and data with geo-location, customer profile information and offer details to push highly relevant promotions in real time



If you would like to schedule a 1:1 meeting or demo of the Striim platform at Strata + Hadoop World, please email todd@striim.com.
Join us for a beer during Tuesday night's opening reception. And be sure to try a key in our Gadget Giveaway — dozens of gadgets including smart watches, security cameras, wifi speakers, quadcopters, and a BB-8 droid! Grab your key and see if it unlocks the box for your choice of prize!
Exhibition Hours:
Tuesday, March 29, 5:00pm – 6:30pm Opening Reception
Wednesday, March 30, 10:00am – 4:50pm / 5:50pm – 6:50pm Booth Crawl
Thursday, March 31, 10:00am – 4:20pm
We look forward to seeing you at Strata!