While the typical conversation about Azure hybrid cloud architecture may be centered around scaling applications, VMs, and microservices, the bigger consideration is the data. Spinning up additional services on-demand in Azure is useless if the cloud services cannot access the data they need, when they need it.
"According to a March 2018 hybrid cloud report from 451 Research and NTT Communications, around 63% of firms have a formal strategy for hybrid infrastructure. In this case, hybrid cloud does not simply mean using a public cloud and a private cloud. It means having a seamless flow of data between all clouds, on and off-premises." – Data Foundry
To help simplify providing a seamless flow of data to your Microsoft Azure hybrid cloud infrastructure, we're happy to announce that the Striim platform is available in the Microsoft Azure Marketplace.
How Streaming Data Integration Simplifies Your Azure Hybrid Cloud Architecture
Enterprise-grade streaming data integration enables continuous real-time data movement and processing for hybrid cloud, connecting on-prem data sources and cloud environments, as well as bridging a wide variety of cloud services. With in-memory stream processing for hybrid cloud, companies can store only the data they need, in the format that they need. Additionally, streaming data integration enables delivery validation and data pipeline monitoring in real time.
Streaming data integration simplifies real-time streaming data pipelines for cloud environments. Through non-intrusive change data capture (CDC), organizations can collect real-time data without affecting source transactional databases. This enables cloud migration with zero database downtime and minimized risk, and feeds real-time data to targets with full context – ready for rich analytics on the cloud – by performing filtering, transformation, aggregation, and enrichment on data-in-motion.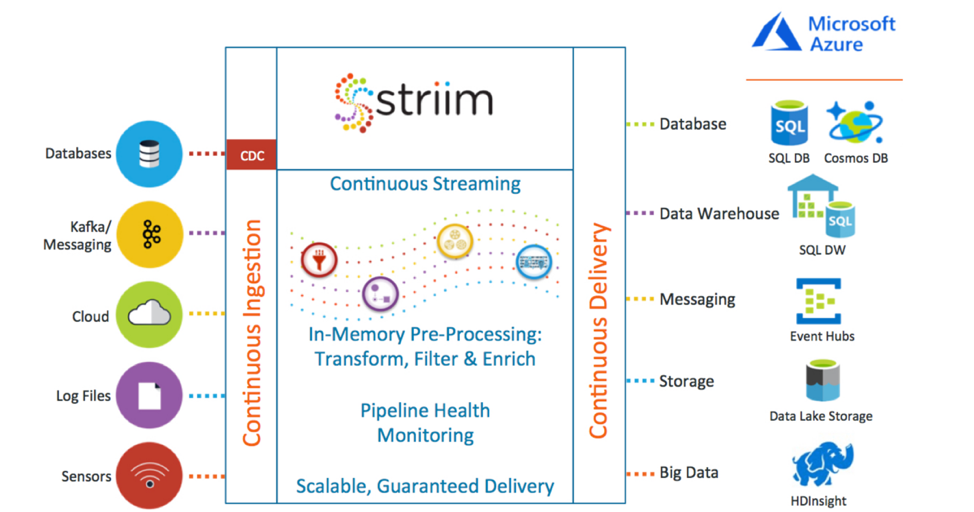 Key Traits of a Streaming Data Integration Solution for Your Azure Hybrid Cloud Architecture
There are three important objectives to consider when implementing a streaming data integration solution in an Azure hybrid cloud architecture:
Make it easy to build and maintain –The ability to use a graphical user interface (GUI) and a SQL-based language can significantly reduce the complexity of building streaming data pipelines, allowing more team members within the company to maintain the environment.
Make it reliable – Enterprise hybrid cloud environments require a data integration solution that is inherently reliable with failover, recovery and exactly-once processing guaranteed end-to-end, not just in one slice of the architecture.
Make it secure –Security needs to be treated holistically, with a single authentication and authorization model protecting everything from individual data streams to complete end-user dashboards. The security model should be role-based with fine-grained access, and provide encryption for sensitive resources.
Striim for Microsoft Azure
The Striim platform for Azure is an enterprise-grade data integration platform that simplifies an Azure-based hybrid cloud infrastructure. Striim provides real-time data collection and movement from a variety of sources such as enterprise databases (ie, Oracle, HPE NonStop, SQL Server, PostgreSQL, Amazon RDS for Oracle, Amazon RDS for MySQL via low-impact, log-based change data capture), as well as log files, sensors, messaging systems, NoSQL and Hadoop solutions.
Once the data is collected in real time, it can be streamed to a wide variety of Azure services including Azure Cosmos DB, Azure SQL Database, Azure SQL Data Warehouse, Azure Event Hubs, Azure Data Lake Storage, and Azure Database for PostgreSQL
While the data is streaming to Azure, Striim enables in-stream processing such as filtering, transformations, aggregations, masking, and enrichment, making the data more valuable when it lands. This is all done with sub-second latency, reliability and securty via an easy-to-use interface and SQL-based programming language.
To learn more about Striim's capabilities to support the data integration requirements for an Azure hybrid cloud architecture, read today's press release announcing the availability of the Striim platform in the Microsoft Azure Marketplace, and check out all of Striim's solutions for Azure.