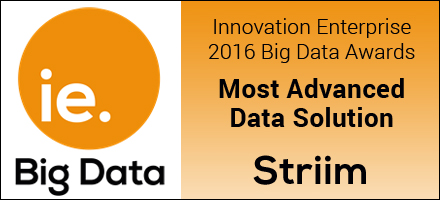 Award Recognizes Innovative Achievement in Big Data
PALO ALTO, Calif., October 25, 2016 — Striim, provider of an end-to-end, real-time data integration + streaming analytics platform, has been awarded the 2016 Data Award for "Most Advanced Data Solution" by Innovation Enterprise (IE).
The award was presented at the recent Big Data Innovation Summit in Boston, and was based on nominations and votes from attendees and speakers over the course of IE's Big Data event series.
"Striim's impact on Big Data focuses on leveraging the power of real time to make fast data instantly valuable," said Steve Wilkes, founder and CTO of Striim. "We are thrilled that the growing community around the Innovation Enterprise Big Data events has recognized Striim's ability to help transform Big Data architectures into platforms for real-time insights and smart decisions."
The Big Data Awards acknowledge organizations that have pioneered Big Data initiatives that have or will have an overall positive impact within the Big Data community.
For more information regarding this award and other industry recognition of the Striim platform, please visit www.striim.com/industry-recognition.
About Innovation Enterprise
Innovation Enterprise, a CFO Publishing company, is an independent business-to-business multi-channel media brand focused on the information needs of Senior Finance, Operations, Analytics, Big Data, Strategy, Digital, Innovation & Sports executives. Products include ieSummits, ieOnDemand, ieWebinars, ieWhitepapers & more.
Whether it's delivered online, or in person, everything Innovation Enterprise produces reflects the company's unshakeable belief in the power of information to spur innovation.
About Striim
Striim™ (pronounced "stream") is an enterprise-grade, real-time integration + intelligence platform. Striim makes it easy to create streaming data pipelines – including change data capture – for real-time log correlation, cloud integration, edge processing, and streaming analytics. Companies worldwide use Striim to deliver real-time analysis and visualizations for fraud/cybersecurity, customer experience/QoS, replication risk management, and Internet of Things (IoT) analytics. For more information, please visit www.striim.com, read our blog at www.striim.com/blog or follow @striimteam. The fully loaded Striim platform is also available for download.