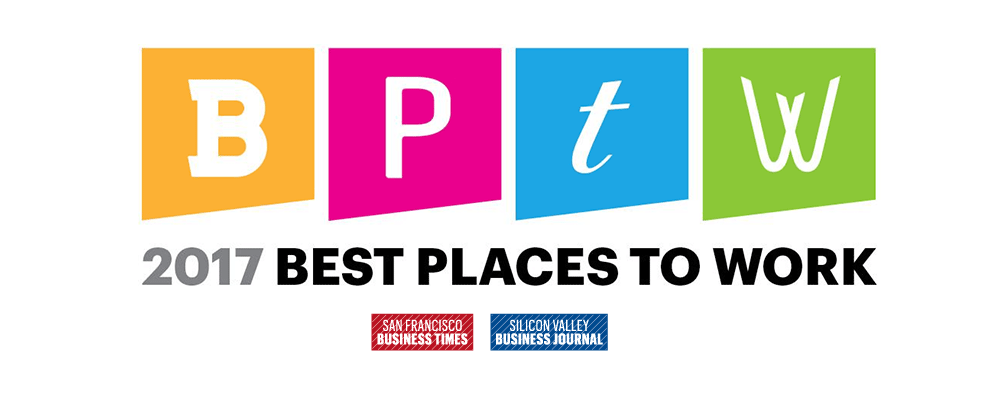 Palo Alto, CA – March 14, 2017 – Striim, Inc., provider of an end-to-end real-time data integration and streaming analytics platform, announced today that it has been recognized as a winner of the 2017 Bay Area Best Places To Work, an awards program presented by the San Francisco Business Times and the Silicon Valley Business Journal.
Select employers from the Bay Area will be named winners of the awards program, held on April 18, 2017. These winning organizations will be honored for having created exceptional workplaces that their employees value highly.
Award applicants were evaluated and ranked across 5 categories according to the number of Bay Area employees. The ranking found companies in the region whose employees rate them as the highest on such values as fun, collaborative culture, solid compensation and benefits offerings and other amenities as well as management practices. The rankings will be unveiled on April 18, 2017 at the awards program.
"Striim is the full package. We have a super bright team, amazing technology, seasoned leadership that cares about every employee, and a fun and motivating culture," said Katherine Rincon, SVP of Marketing for Striim. "All of us at Striim are thrilled to have this validation of what we all believe: that Striim is a fantastic company to work for!"
About Striim 
Striim™ (pronounced "stream") is an enterprise-grade, real-time integration + intelligence platform. Striim makes it easy to create streaming data pipelines – including change data capture – for real-time log correlation, cloud integration, edge processing, and streaming analytics. Companies worldwide use Striim to deliver real-time analysis and visualizations for fraud/cybersecurity, customer experience/QoS, replication risk management, and Internet of Things (IoT) analytics. For more information, please visit www.striim.com, read our blog at www.striim.com/blog or follow @striimteam. The fully loaded Striim platform is also available for download.
About 2017 Bay Area Best Places to Work
Best Places to Work is an innovative publication and awards program produced by the San Francisco Business Times and the Silicon Valley Business Journal. The rankings were determined by surveys that went directly to employees who answered a series of questions. The survey was administered online by the employers and through a service provided by Quantum Workplace, our research partner. The rankings are numeric based on Quantum's scoring process. By ranking companies and sharing best practices we facilitate idea sharing and help other companies learn from the best.