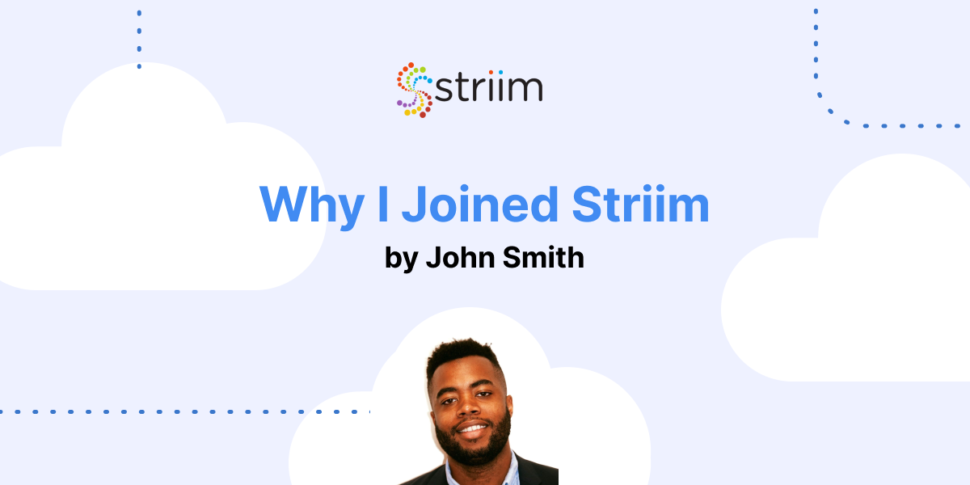 In one sentence, I'd say, "because the building blocks of our company culture mirror our business solutions." To clarify – Striim thrives because it harnesses the real-life experiences of its employees to cultivate a strong culture while delivering a game-changing product to our customers. If you're still confused, let me use myself and my journey to joining this company as an example.
I grew up in a single-parent home in East Palo Alto in the 90s. East Palo Alto was battling some pretty significant crime and neighborhood violence during that decade and was generally recognized as the "scary" part of town. With my Mom away at college, I spent most of my childhood with my two grandmothers, little sister, and adopted brother.  It quickly became apparent that my family needed a leader, and I was the one who (without much choice) rose to the occasion. 
My grandparents played a crucial role in my success, fiercely advocating for my acceptance into Palo Alto High School (arguably one of the best public schools in the country), which gave me access to excellent educational resources. With that opportunity, I became wholeheartedly determined to grow into a role and leadership position which would prove that anyone, no matter their background, can become so much more than just "a product of their environment." To this day, I attribute much of my career to the unwavering love and support I received from my grandparents during those formative years.

During and after my time in High School, I focused on surrounding myself with individuals who shared my goals, values, and drive. These connections and relationships eventually led me to a career in music, where I had the chance to perform at major festivals such as Coachella, Electric Daisy Carnival, and Lightning in a Bottle. During this period, I also branched out into writing for a well-respected music and tech blog, eventually taking on the additional roles of social media and events manager. In my tenure, I brought the website from 100,00 monthly visitors to 1.3m monthly visitors, hosted an event at South by Southwest in Austin, Texas, with 12 thousand registrants, all the while gathering qualitative information to improve our user experience for members while they were on the website. 
After leaving the music industry to expand my career in the tech industry, I worked in B2B sales and Customer Success Management at a market research firm that focused on new and existing enterprise clients ranging in verticals from Media + Entertainment to Healthcare + Fintech. In my first year, I closed 2.1m in new business. In my second year, I sold 1.4m in new business. In addition to these sales, I began assisting our marketing team in developing fresh and innovative ways to reach our customers and empower the sales team. I accomplished this by publishing regular blog pieces on our company website and generating email copy catered, custom, and personalized to our target markets.
Being a person of color in the technology or music industry is a test of mental fortitude, just like anywhere in America. However, this mental fortitude, cultivated from facing the many challenges life lays out for us, is necessary to make progress. We must all work together to "be the change we wish to see" in the world, and for me, that first step was finding a company that shares my values and goals. Here at Striim, the catalyst for this empowering level of support and monumental change stemmed from the simple fact that there was real internal support and willingness to not only hear my feedback but make it actionable. 
It's incredibly comforting to know my company is taking significant steps to make my experience as a person of color in the workspace both valid, as well as a source of wisdom. Striim strongly prioritizes a "team-first" mentality.  Emphasizing those values has nurtured a culture rich in creative and analytical thought while empowering the world's largest companies to be more connected to their customers.
Striim's culture at its core enables everyone to be more empathetic to their team members.
In addition, the product allows for the world's largest companies to be more connected to their customers.
It's not until recently that I realized how refreshing it is to have a company culture that promotes empathy, a sense of creativity, and individuality. Not only that, but it unsilos our thinking, and we become that much more collaborative in our initiatives as a result.
 So, If you asked me to sum up the reason that I chose Striim in one sentence, I'd say: "The building blocks of our company culture mirror our business solution." And now you know why.
I've decided to make this blog into a series of video interviews. I'll get the chance to speak with some of my team members and other teammates from different departments to ask them why they work at Striim and how it ties to their passions in life. These interviews aim to show you the importance of having a solution that aligns with the company's ethos.