In May, Striim launched Striim for IoT, an innovative IoT solution that addresses major obstacles to an IoT infrastructure. Now, not even two months later, we are proud to announce that Striim has been awarded the 2017 IoT Innovative Product / Solution of the Year by Compass Intelligence! Striim is joined by prominent companies in the IoT category who are doing incredible things the space, including Tesla, Amazon and Honeycomb, to name a few.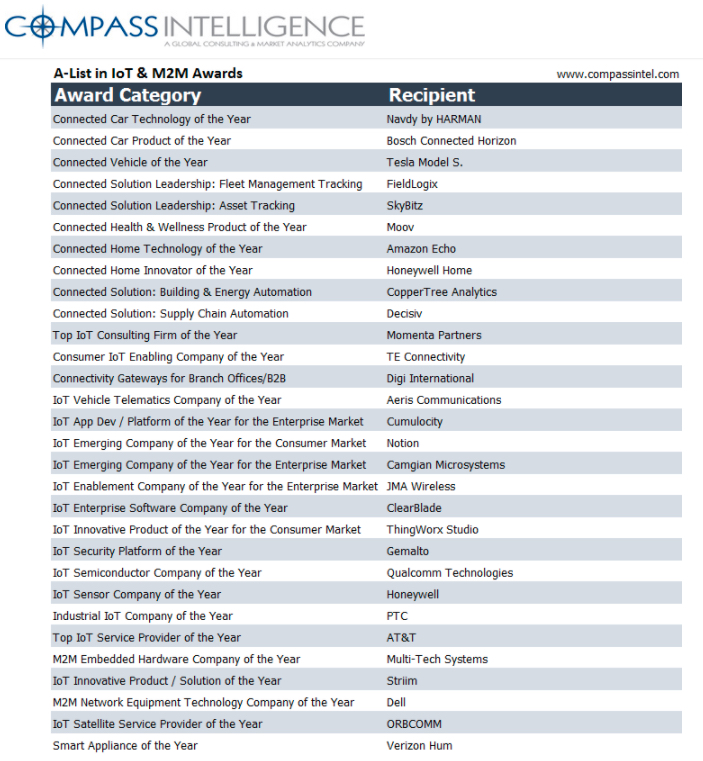 Now in its 5th year, the Compass Intelligence Awards recognizes top innovators, technologies, best-in-class solutions and products, and leaders in mobile, IoT and emerging technology industries.
So why was Striim selected as the most innovative IoT solution? Until now, much of the perceived innovation of IoT has been centered around the devices, and the new use cases they create. However, the true value of IoT is in the data.
Comprehensive IoT data management and analysis is increasingly paramount. Having the ability to make time-sensitive decisions based on context-rich data enables enterprises to make informed business decisions, resulting in benefits such as improving operational efficiency, driving intelligent innovation, and counteracting IoT-related security threats.
The Striim platform makes it simple and speeds the delivery of end-to-end data management and analysis solutions for any company leveraging IoT data in their operations. Specifically, Striim addresses the three primary challenges to IoT data management and analysis:
Managing IoT Data – Striim for IoT provides businesses with the ability to process the extreme volumes of IoT data they generate through in-flight filtering, transformation and aggregation at the edge. By being able to pull key data insights in real-time, at the edge, organizations are able to act upon only relevant IoT data, while reducing redundancy and limiting the amount of stored data on target systems.
Integrating IoT Data with Enterprise Data – Business operations are not based on IoT data alone. As such, operations cannot rely on a simple IoT analytics solution. Striim enables companies to integrate massive volumes of sensor and device data in real time with a wide variety of streaming data sources across the enterprise, and perform streaming data processing and analytics wherever it makes most sense for the business – at the edge, on-premise, or in the cloud. This all occurs while data is in-flight, before the information loses operational value, becoming less relevant and actionable.
Addressing IoT-related Security Issues – Striim is uniquely able to correlate events and identify potential breaches across IoT and non-IoT systems throughout the enterprise. Because of Striim's ability to process massive amounts of data and perform complex analysis – including anomaly detection and pattern matching – in real time, Striim solutions help organizations thwart attacks before they take hold.
Check out this award and additional industry recognition of the Striim platform, or contact us to schedule a demo of Striim for IoT.