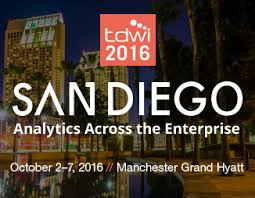 Striim is excited to sponsor and present at TDWI San Diego, October 3–5 at the Manchester Grand Hyatt. Visit the Striim team at Booth #100 to check out our newly released v 3.6 of the Striim Platform.
Steve Wilkes, founder and CTO of Striim, will present on Wednesday at 1:30 p.m at Seaport F:
Transcending Space and Time: 4 Use Cases on Streaming Analytics at the Intersection of Enterprise, Cloud, and IT
Here's an overview:
It is becoming increasingly necessary in modern data architectures to distribute data workloads across on-prem, cloud and IoT environments. Many factors including latency requirements, geolocation, and how long data must be stored determine where data resides and how to gain insights most efficiently. In these environments, the concept of right-time analytics is highly relevant, and demands a streaming analytics solution that transcends these environments to deliver the right answers at the right time.
Join this session and delve into 4 enterprise-scale, business-critical use cases where streaming analytics is the key to enabling real-time data integration and right-time insights in hybrid cloud, industrial IoT, and fog computing environments.
---
Steve will also demo the award-winning Striim platform and be on-hand to answer questions during two half-day courses presented by industry analyst, Mark Madsen, President of Third Nature:
T8A Data Discovery, Exploration, and More: The Latest Innovations in Analysis and BI Tools
Tuesday, 8:00 a.m. – 11:15 a.m.
Attend this session to learn:
The latest innovations for delivering and analyzing data
How these new technologies fit into your current environment
What the market adoption of these capabilities is today.
How to determine what technologies to evaluate and what to look for when evaluating them
T8P Delivering Data Faster: Innovations in Integration Tools
Tuesday, 2:15 p.m. – 5:30 p.m.
Attend this session to learn:
The latest innovations for integrating and preparing data.
How these new technologies fit into your current environment
What to look for when evaluating these new technologies
---
Striim's lead technologists will be offering demos of the Striim platform tailored to key use cases. Stop by and see why Gartner named Striim a "Cool Vendor" in In-Memory Computing. Be sure to try your luck in our Gadget Giveaway — dozens of fun Star Wars and Pokemon gadgets; claim your key and see if it unlocks the giveaway box for your choice of prize!
Exhibition Hours:
Monday, October 3,  6:30 p.m.–8:00 p.m. Welcome Reception
Tuesday, October 4, 11:15 a.m.–2:15 p.m. / 5:00 p.m. – 7:00 p.m. Exhibition Reception
Wednesday, October 5, 12:15 p.m.–2:15 p.m.
We look forward to seeing you this week at TDWI San Diego!