We are proud to announce that Striim has received two 2019 best places to work awards in the Bay Area by three highly regarded local publications: the San Francisco Business Times, the Silicon Valley Business Journal, and the Bay Area News Group (publisher of The Mercury News in San Jose). This is the third year in a row that Striim was among the top companies on both lists.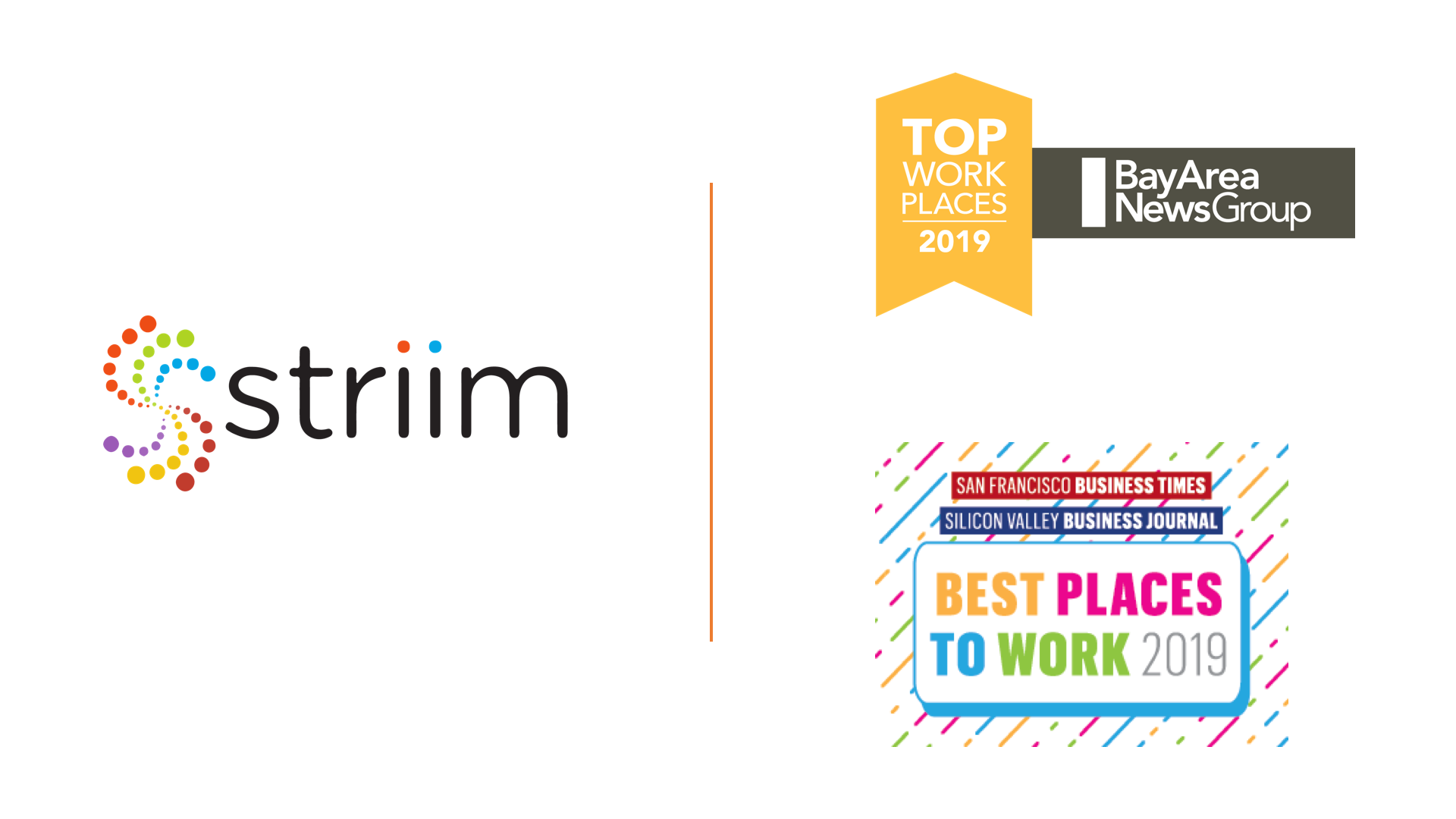 This past week, Striim ranked #1 in the Small Companies category of the Bay Area News Group's Top Workplaces award. This is the second time in three years that Striim has received the top ranking.
In late April, the San Francisco Business Times and the Silicon Valley Business Journal recognized Striim as the #7 best place to work in the Bay Area, up 3 spots from its #10 ranking in 2018.
Striim is honored to consistently rank among the top 10, and even more so to achieve Bay Area News Groups #1 spot. These rankings are a reflection of Striim's ability to attract amazing employees in the Silicon Valley, and showcase the positive experience of the Striim team members currently working at the company.
What's great is that both awards were 100% driven by employee feedback. Employees were asked a number of multiple choice and open-ended questions pertaining to a variety of workplace considerations: culture, pay, benefits, work-life balance, team collaboration, etc. Striim employees ranked the company extremely high in all categories.
Striim does not take these 2019 best places to work awards lightly. As a tech startup, it's difficult to attract and retain top talent that Silicon Valley. Striim, like many other small companies in the Valley, needs to compete with big tech organizations and well-funded start-ups alike.
Along with its own unique perks and offerings, Striim offers a close-knit environment that promotes respect, hard work, and collaboration. Also, every day, employees are given the opportunity to work on emerging technology that is changing the way enterprise companies interact and handle its data.
It's our belief that this combination is why Striim has done so well with these best places to work awards over the years.
If you're interested in learning more about why Striim has been recognized as one of the top 2019 best places to work in the Bay Area, please read our San Francisco Business Times/Silicon Valley Business Journal and Bay Area News Group Top Workplaces press releases. And please check our Careers page if you think Striim might be a fit for you!