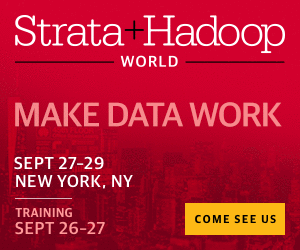 Striim is pleased to sponsor Strata Hadoop World at Javits Center in New York City, September 27-29.
Please join us at booth #635 to see a live demo of the Striim platform. See how Striim makes it easy to create streaming data pipelines – including change data capture – to enable real-time log correlation, cloud integration, edge processing, and streaming analytics.
Join us for a cocktail during Tuesday night's opening reception. And be sure to try your luck in our Gadget Giveaway — dozens of fun Star Wars and Pokemon gadgets including a BB-8 droid! Claim your key and see if it unlocks the giveaway box for your choice of prize!
Exhibition Hours:
Tuesday, September 27, 5:00 p.m.–6:30 p.m. Opening Reception
Wednesday, September  28, 10:30 a.m.–4:45 p.m. / 5:45 p.m.–7:05 p.m. Booth Crawl
Thursday, September  29, 10:30 a.m.–4:35 p.m.
We look forward to seeing you at Strata+Hadoop World!