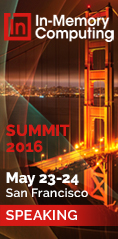 Striim is proud to be a Platinum Sponsor of the In-Memory Computing Summit, May 23-24 at the Grand Hyatt San Francisco.
Join Striim's co-founder and CTO, Steve Wilkes, Monday, May 23, at 4:45 p.m., for a 50-minute presentation: "Making IMC Enterprise Grade." Steve will also present, "Tap Into Your Enterprise – Why Database Change and IMC Are an Ideal Match," on Tuesday, May 24 at 9:40 a.m.
Making IMC Enterprise Grade
May 23 at 4:45 p.m.
Do you need to move enterprise database information into a Data Lake in real time, and keep it current? Or maybe you need to track real-time customer actions in order to engage them while they are still accessible. Perhaps you have been tasked with ingesting and processing large amounts of IoT data.
Whatever the use case, you have found yourself embarking down the path of in-memory computing, and more specifically, stream processing and analytics. Your first thought may be to look towards open-source technology to achieve your objectives. But you quickly realize that there are a lot of options, and a lot of pieces that you would need to wire together to make this happen.
More importantly, you realize that, as part of your mission-critical business systems, this in-memory technology needs to be enterprise grade. It needs to be scalable, reliable, secure, and integrate easily with your existing systems.
In this presentation, Steve will discuss the architectural decisions that must be made to harden your IMC implementation for the enterprise. You will learn ways to approach scalability and reliability. This will cover partitioning of streaming data, design considerations for optimal data enrichment and processing capabilities, and failover and recovery strategies. Learn why it is crucial to secure the components of your in-memory architecture, and apply encryption correctly. Different approaches to integrating with the many sources of enterprise data in a streaming fashion – including enterprise databases, log files and IoT data – will also be shared.
Tap Into Your Enterprise – Why Database Change and IMC Are an Ideal Match
Tuesday, May 24, at 9:40 a.m.
In-memory computing is all about now. It's the art of collecting and processing data as quickly as it is created in order to provide instant actionable insights. Databases, however, are all about the past. They are a record of what happened, not what is happening right now.
In this presentation, you will learn how to turn your enterprise databases, and the applications they support, into real-time sources of what's currently happening throughout the business. By utilizing database change, and in-memory processing and analytics, you can tap into your enterprise activity and make decisions while the data is still relevant.
Exhibition Hours:
Monday, May 23, 8:30 a.m. – 5:30 p.m.
Tuesday, May 24, 8:30 a.m. – 4:45 p.m.
We look forward to seeing you at the In-Memory Computing Summit!