Striim is proud to announce that we've been recognized by SIIA as a 2019 CODiE Awards Finalist as a Best iPaaS, or Integration Platform as a Service.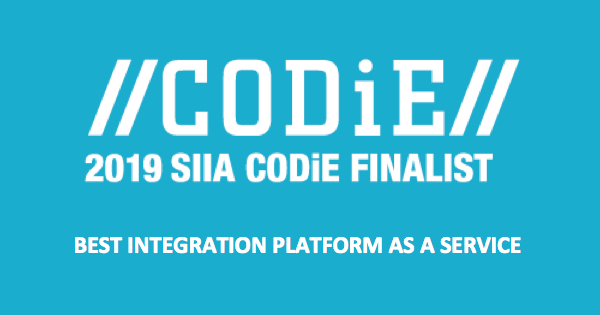 Why was Striim selected as a Best iPaaS solution? Striim is the only streaming (real-time) data integration platform running in the cloud that is built specifically to support cloud computing.
Real-time data integration is crucial for hybrid and multi-cloud architectures. Striim's iPaaS solutions for real-time data integration in the cloud brings the agility and cost benefits of the cloud to integration use cases.
Striim enables companies to:
Quickly and easily provision streaming data pipelines to deliver real-time data to the cloud, or between cloud services
Easily adopt a multi-cloud architecture by seamlessly moving data across different cloud service providers: Azure, AWS, and Google Cloud
Offload operational workloads to cloud by moving data in real time and in the desired format
Filter, aggregate, transform, and enrich data-in-motion before delivering to the cloud in order to optimize cloud storage
Migrate data to the cloud without interrupting business operations
Minimize risk of cloud migrations with real-time, built-in cloud migration monitoring to avoid data divergence or data loss
Stream data in real time between cloud environments and back to on-premises systems
As one of the best iPaaS solutions, the Striim platform supports all aspects of Cloud integration as it relates to hybrid cloud and multi-cloud deployments.
Striim enables zero-downtime data migration to cloud by performing an initial load, and delivering the changes to the legacy system that occurred during the loading without pausing the source system. To prevent data loss, it validates that all of the data from on-premises sources migrated to the cloud environment.
Striim's iPaaS solution provides the real-time data pipelines to and from the cloud to enable operational workloads in the cloud with the availability of up-to-date data.
Striim supports multi-cloud architecture by streaming data between different cloud platforms, including Azure, Google and AWS, and other cloud technologies such as Salesforce and Snowflake. If necessary, Striim can also provide real-time data flows between services offered within each of the three cloud platforms.
About Striim for Data IPaaS
Running as a PaaS solution on Microsoft Azure, AWS and Google Cloud Platform, the Striim streaming data integration platform offers real-time data ingestion from on-premises and cloud-based databases (including Oracle, SQL Server, HPE NonStop, PostgreSQL and MySQL), data warehouses (such as Oracle Exadata and Teradata), cloud services (such as AWS RDS and Amazon S3), Salesforce, log files, messaging systems (including Kafka), sensors, and Hadoop solutions.
Striim delivers this data in real time to a wide variety of cloud services (for example, Azure SQL Data Warehouse, Cosmos DB and Event Hubs; Amazon Redshift, S3 and Kinesis; and Google BigQuery, Cloud SQL and Pub/Sub), with in-flight transformations and enrichments.
Users can rapidly provision and deploy integration applications via a click-through interface using Striim's pre-built templates and pre-configured integrations that are optimized for their cloud endpoints.
To learn more about Striim's capabilities as one of the best iPaaS solutions, check out our three-part blog series, "Striim for Data iPaaS."