I spent last week in the London Borough of Kensington speaking and exhibiting at Big Data LDN. For me, personally, it was wonderful to finally present in my home country.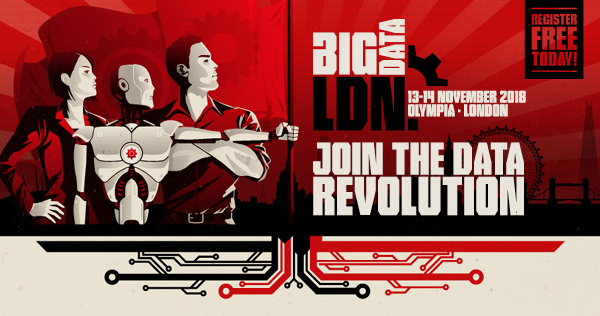 Big Data LDN was a really interesting show. Firstly, it was free to attend. Secondly, they had amazing content. As such, there were close to 8,000 attendees and 130 presentations.
Despite the name, there really wasn't much focus on what is traditionally thought of as Big Data. Instead, they had keynotes plus seven major focus areas represented in different theaters. On the technology side, these were Fast Data, AI, and Data Ops. The strategy side included Data Driven approaches, Self-Service Analytics, Customer Experience, and Governance / MDM. I gave two talks in the Fast Data theater, but could have touched on most of the different focus areas.
This seems to be a common trend in the data industry – Strata is no longer 'Strata +Hadoop,' and Hadoop Summit became DataWorks Summit – and highlights an industry moving from Hadoop-based Big Data technologies towards streaming data, cloud and AI. It's unlikely that Big Data LDN will rebrand itself, however, given that it is a rapidly growing show (+40% year-on-year), I don't see it shrinking any time soon.
Cloud, however, was conspicuously missing from the session tracks. I have a strong feeling we may see a Cloud Theater next year in addition to the existing ones. They added the Fast Data Theater for this year's conference and it was incredibly well-attended with standing room only for a lot of the sessions.
The topics of the keynotes were equally interesting with a lot of buzz around the Big Data Debate. Michael Stonebraker, always a crowd-pleaser, was the major keynote speaker. He emphasized how data integration, especially with high volume and velocity, was the key to success, with Data Scientists currently spending 90 percent of their time just obtaining reliable data.
All of this was great validation of how on-point our presentations were. The first one, highlighting the power of Streaming Integration, covered most of the key points of integration at scale and velocity, and linked together other key topics like AI, analytics, customer experience, and data ops. The second focused on operational machine learning, and provided a path to help Data Scientists work with fast data to streamline the path to enable real-time predictions.
Overall Big Data LDN was a great show, and wonderful to spend time in London. I really hope to be back next year.