We are thrilled to announce that Striim has been recognized as a "Best Small Workplace" on FORTUNE's 2018 Best Small & Medium Workplaces in the United States list.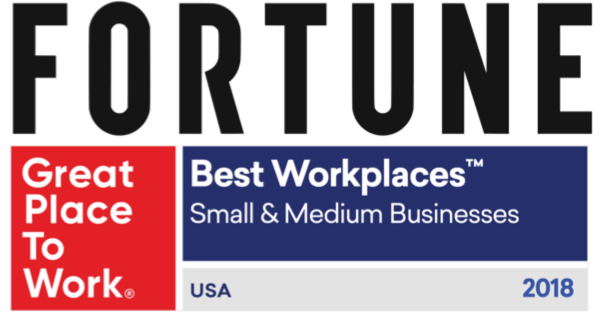 FORTUNE's 2018 Best Small & Medium Workplaces list was determined based on a survey that was launched and evaluated by Great Place to Work, a global people and analytics firm. More than 112,000 employee surveys were considered that took into account a number of considerations regarding the workplace, such as trust in leadership, camaraderie amongst the team, and perks/benefits within the organization.
This Best Small Workplace in the US award is very special for Striim because it is based solely on the comprehensive employee feedback garnered by Great Place to Work.
Striim had top scores across every category including Great Challenges (99%), Great Atmosphere (100%), Great Rewards (97%), Great Pride (100%), Great Communication (98%), Great Bosses (99%).
Here's a bit of what employees had to say:
"I can be myself around here."  – 100%
"Managers avoid playing favorites." – 100%
"Management is honest and ethical in its business practices." – 98%
"People here are willing to give extra to get the job done." – 98%
"People here are given a lot of responsibility." – 98%
The Best Small Workplace award also highlights Striim's many perks including catered lunches twice a week, a full-service kitchen, holiday parties and happy hours, a floating holiday and birthday holiday, fitness challenges, and ping pong. These perks are all in addition to great medical, dental and vision benefits, 401K, competitive compensation and incentive stock options.
To learn more about why Striim was included on the list, as well as to view the full list of winners, read the press release, "Striim Recognized as a 2018 Best Small & Medium Workplace in the United States by Great Place to Work® and FORTUNE."