Cloud-Hosted Solution Enables Streaming Data Pipelines
to Cloud SQL for PostgreSQL and MySQL Regardless of Location
PALO ALTO, CA and LONDON, UK – October 11, 2018 – Striim®, provider of an enterprise-grade platform for streaming data integration, announced today at the Google® Cloud Next '18 London conference that the Striim software is now available as a cloud-hosted offering on the Google marketplace to enable streaming data pipelines to Google®Cloud SQL. Striim simplifies the continuous collection, transformation and movement of data in real time from a wide variety of on-premises and cloud sources, making it easier for companies to integrate cloud-based PostgreSQL and MySQL in their hybrid cloud architectures.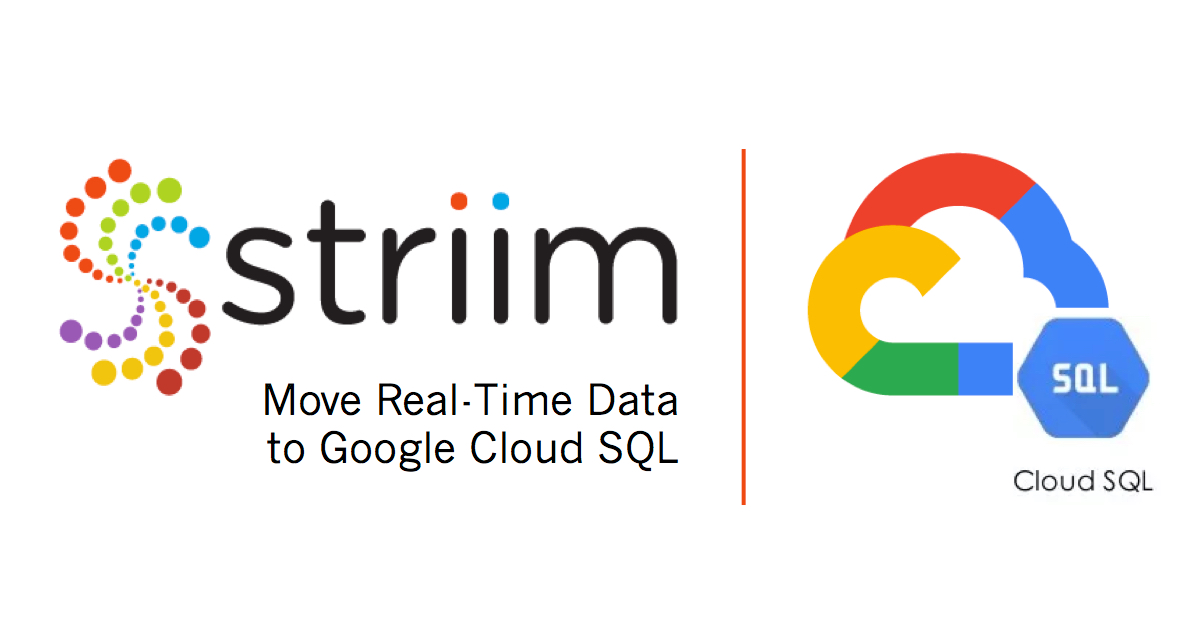 Google Cloud SQL is Google's fully managed database service for PostgreSQL and MySQL databases in the cloud. However, a cloud database is only as good as its data. Striim ensures Google Cloud SQL is continuously fed with real-time, relevant data from both on-premises and cloud systems, while maintaining transactional consistency.
"With Striim, our customers can set up continuous real-time data flows that deliver data in the right format into PostgreSQL and MySQL running on Google Cloud," said Alok Pareek, Founder and EVP of Products for Striim. "Striim moves data continuously with Exactly Once processing (E1P) semantics and in a transactionally consistent manner. These are key requirements when integrating data from mission-critical applications. By rapidly setting up automated, real-time data pipelines, Cloud SQL customers can replicate data into their MySQL and PostgreSQL database services for real-time business applications, as well as for operational data stores and data marts in their analytical solutions."
Striim ingests data from a broad range of enterprise databases (including Oracle, SQL Server, HPE NonStop, MySQL, PostgreSQL, Amazon RDS for Oracle, Amazon RDS for MySQL) via log-based Change Data Capture (CDC), as well as from log files, messaging systems, sensors, and Hadoop solutions. While the data is in-motion, Striim performs in-line transformations before delivering to Google Cloud SQL with sub-second latency, providing full context for any downstream operations such as reporting, analytical, and transactional processing.
For Google Cloud SQL customers, Striim offers several features and benefits that can maximize integration speed and reliability:
uses low-impact change data capture (CDC) to minimize impact on source databases
offers a secure, reliable, and scalable service for continuous real-time data collection, preparation, and delivery to Google Cloud SQL
provides in-flight data filtering, transformation, aggregation, masking, and enrichment
reduces on-premises ETL workloads, as well as data latency
enables synchronization of partial data sets for reporting use cases
For more information about Striim's platform-as-a-service offerings for Google Cloud SQL, please visit www.striim.com/partners/google-cloud-platform/ or provision Striim in the Google Cloud marketplace.
About Striim
The Striim®platform is an enterprise-grade streaming data integration solution for moving data in real time to the cloud. Striim makes it easy to continuously ingest and process high volumes of streaming data from diverse sources (both on-premises or in the cloud) to support hybrid cloud infrastructure, as well as Kafka, Hadoop, and NoSQL integration. Striim can collect data from enterprise databases (using non-intrusive change data capture), log files, messaging systems, and sensors in real time, and deliver to virtually any target on-premises or in the cloud with sub-second latency.For more information, visit www.striim.com, read our blog at www.striim.com/blog,  follow @striimteam, or download the Striim platform.