Google Partner Introduces Platform-as-a-Service Offerings
for Google BigQuery, and Cloud SQL for PostgreSQL and MySQL
PALO ALTO, CA – September 11, 2018 – Striim®, provider of an enterprise-grade platform for streaming data integration, announced today that it has expanded integration with Google®Cloud Platform™(GCP™) to continuously feed real-time data from a broad range of data sources to Google BigQuery™and Cloud SQL for PostgreSQL and MySQL.This integration helps Google customers to move toward a hybrid cloud infrastructure by making real-time enterprise data available for data warehousing, advanced analytics, operational reportingand machine learning solutions.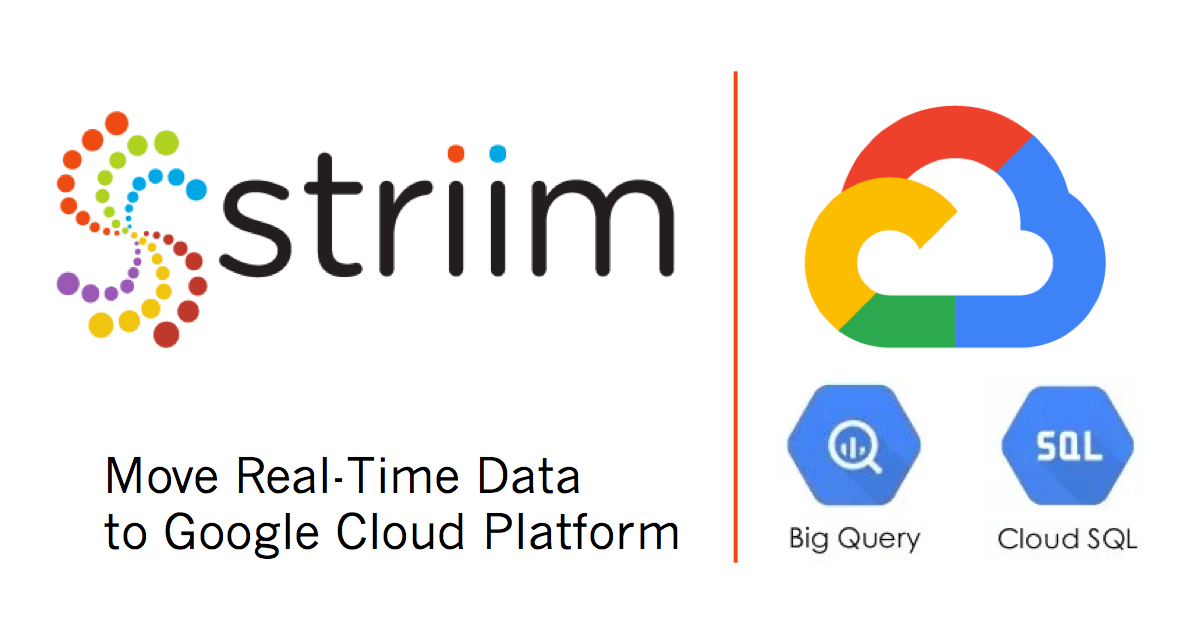 Striim's platform-as-a-service solutions for the GCP infrastructure platform simplify the creation of real-time data pipelines from existing databases and data warehouses into Google BigQuery and Cloud SQL for PostgreSQL and MySQL. 
"In order to gain maximum value out of data stores and applications running on the Google Cloud Platform, companies need to be able to reliably deliver real-time data on a continuous basis into Google cloud-based services," said Alok Pareek, Founder and EVP of Products for Striim. "Striim, running as a PaaS solution on the Google Cloud, speeds deployment of GCP-based database, storage and analytics solutions by making it easy to stream large volumes of data from a wide variety of sources to key Google Cloud data solutions."
The Striim platform, running on the GCP infrastructure platform, enables real-time data ingestion from databases (including Oracle, SQL Server, and MySQL) via log-based change data capture to provide continuously updated operational data for cloud-based analytics, while minimizing the impact on performance of source systems. Striim also enables in-flight data processing to reduce overall latency and drive operational workloads.
With Striim, users can quickly deploy an enterprise-grade, modern data warehouse on Google BigQuery with a real-time data store that supports fast operational decisions. Google customers can further use Striim's cloud-based streaming integration services to run operational workloads and set up data stores on Google Cloud SQL for PostgreSQL®and MySQL®by continuously ingesting transactional data.
For more information about Striim's platform-as-a-service offerings on the Google Cloud Platform, please visit www.striim.com/partners/google-cloud-platform/.
About Striim
The Striim®platform is an enterprise-grade streaming data integration solution for moving data in real time to the cloud. Striim makes it easy to continuously ingest and process high volumes of streaming data from diverse sources (both on-premises or in the cloud) to support hybrid cloud infrastructure, as well as Kafka, Hadoop, and NoSQL integration. Striim can collect data from enterprise databases (using non-intrusive change data capture), log files, messaging systems, and sensors in real time, and deliver to virtually any target on-premises or in the cloud with sub-second latency. For more information, visit www.striim.com, read our blog at www.striim.com/blog, follow @striimteam, or download the Striim platform.