Striim Version 3.9.8 Includes Valuable Cloud Security Enhancements Including KeyStore Support, Stronger Password Security, and Multi-Layered Application Security, and Secure File Encryption when Loading Files to Cloud Storage
PALO ALTO, CA – March 10, 2020 – Striim, provider of an enterprise-grade platform for streaming data integration to the cloud, has introduced a broad set of enhancements to its on-prem-to-cloud data integration offerings that strengthen platform and data security, improve data accountability, speed application development, increase performance, and enable greater flexibility and extensibility.
Striim 3.9.8 introduces new security features for the cloud integration use cases that enable more fine-grained and robust use of passwords and encryption to provide end-to-end data protection, particularly in hybrid cloud environments.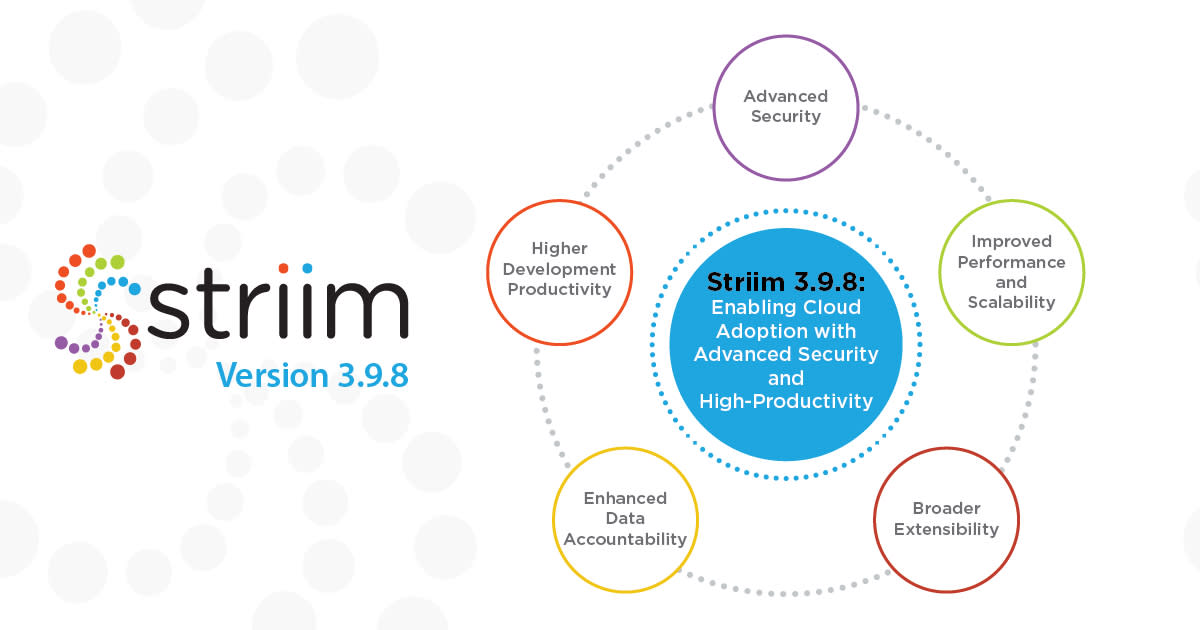 "Moving and deploying cloud-native applications is part of next generation digital transformation. More often than not, these new applications require data feeds from existing on-prem operational systems. As enterprises embrace their cloud strategy, they face challenges around data security, data accountability, scalability and real time data synchronization," said Alok Pareek, founder and EVP of Products at Striim. "With this release, Striim is raising the bar on enabling world-class protection of data streaming at-scale, across both on-premises systems and cloud environments for digital transformation."
More Robust End-to-End Security for Streaming Integration to the Cloud
Striim has been on a multi-year campaign to establish the Striim platform as the gold standard for security in continuous data integration to the cloud. This latest release introduces several significant data protection enhancements.
Striim KeyStore is a new secured repository for passwords and encryption keys that reduces vulnerability by centralizing the administration of encryption keys.
Algorithms for password encryption have been significantly strengthened.
Inter-node cluster communication is secured with stronger encryption algorithms.
Multi-layered application security now allows exported applications that contain passwords or other encrypted values to be protected with a second level of encryption.
Encryption for permanent files based on customer-provided keys is now available in the Striim FileWriter and for the intermediate temporary files using the Google Cloud Storage Writer.
Enhanced Data Accountability
Developers often need to retrieve events that have been discarded by the application for purposes such as replay, testing and auditing. Striim 3.9.8 introduces an application-specific exception store that can be used to store these discarded events.
Higher Performance and Scalability
The new release also introduces performance enhancements for customers using multiple server nodes in a cluster. Administrators have more flexible options than ever for distributing and processing large data volumes in streams or windows by specifying data and metadata for partitioning. This enables load-balancing to improve maximum write performance.
Striim 3.9.8 also now offers the ability to configure the number of parallel threads to be used for writing to a target system across a variety of popular database and data warehouse environments both on-premises and in the cloud.
Faster and Easier Development
Developers can also tap into a host of new user productivity enhancements.
Transformer for in-flight data enrichment enables streaming data to be enhanced without any manual coding using Striim's drag-and-drop UI. For example, ZIP Code data can be automatically enriched with city and county name fields using real-time lookup. Developers also have the option to enrich data with lookups from external data stores using an in-memory cache.
The option to use sample data for continuous queries to reduce compute and storage requirements. Users can choose to use only a portion of streaming data to speed computation and see results more quickly, a feature that's particularly useful in high-volume streaming scenarios.
Dynamic output names for write operations that enable such variables as data, metadata and user data fields to be automatically applied to files and objects in Microsoft Azure Data Lake Store Gen 1 and Gen 2, Azure Blob Storage, Azure File Storage, Google Cloud Storage, Apache HDFS and Amazon S3.
A simpler user experience speeds application development with new UI options for configuring complex adapter properties such as rollover policy, flush policy, and encryption policy.
Broader Extensibility
SAP HANA is now supported as a target for direct integration, enabling users of SAP's transactional / analytical database to rapidly develop time-sensitive analytics applications. Expanded HTTP Reader capabilities allow custom responses to be sent back to the requestor and responses to be deferred until events reach a corresponding HTTP Writer. This enables users to build REST services using Striim.
For more information on Striim version 3.9.8, please read the related blog post, "Striim 3.9.8 Adds Advanced Security Features for Cloud Adoption," or contact us for a brief technical walkthrough.
About Striim
The Striim® platform is an enterprise-grade stream data integration solution for moving data in real time to the cloud and other targets. Striim makes it easy to continuously ingest high volumes of streaming data from diverse sources (both on-premises and in the cloud), and provide stream processing and transformations to support cloud adoption, and multi- and hybrid cloud infrastructures, as well as Kafka, Hadoop, and NoSQL integrations. Striim can continuously collect data from enterprise databases (using non-intrusive change data capture), log files, cloud applications, messaging systems, and sensors, and deliver to virtually any target on-premises or in the cloud with sub-second latency. For more information, visit www.striim.com, read our blog at www.striim.com/blog, follow @striimteam, or download the Striim platform.  
For more information, press only:
Irem Radzik
Striim
(650) 241-0680
irem@striim.com