Striim Platform Integrated with Microsoft Azure IoT Technologies
to Help Enable Industries To Be More Intelligent, Efficient, Secure
PALO ALTO, CA, April 23, 2017 – Striim™, Inc. today announced that it is showcasing their solution for enabling the real-time, continuous exchange and analysis of IoT data across all levels of an IoT infrastructure, powered by Microsoft Azure, at Hannover Messe, the world's leading industrial fair. Striim is using Azure IoT technology for its solution which helps fulfill the promise of Industrie 4.0: enabling industries to be more intelligent, efficient and secure.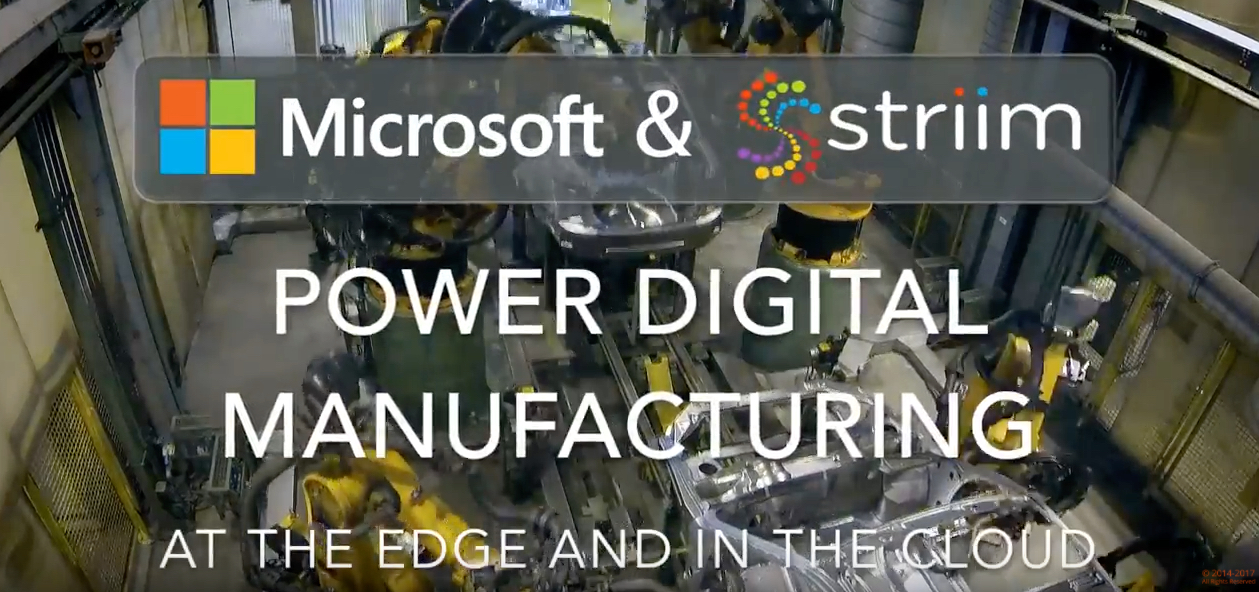 At the Microsoft booth in the Digital Factory trade fair at Hannover Messe, Striim will showcase real-time processing and analytics of enormous volumes of IoT data at the edge, as well as sub-second, context-based post-analysis of IoT data in Azure. In addition to Industrie 4.0, these capabilities support IoT intelligence across categories such as Smart Factory, Industrial Security, Predictive Maintenance, Integrated Energy, Digital Twin and Smart Materials.
"Microsoft Azure IoT Gateway SDK, Azure IoT Hub and Azure Event Hubs support the new Industrie 4.0 through their efficient design and implementation, allowing platforms like Striim to easily integrate with them to provide both intelligent edge processing and analytics, as well as advanced analytics and visualization on data hosted on Azure Cloud," said Ali Kutay, Founder, President and CEO of Striim. "We are honored to partner with Microsoft to help address industry-critical issues related to the efficient management and security of the whitewater flow of IoT data."
Caglayan Arkan, General Manager of Worldwide Manufacturing and Resources at Microsoft, said, "It's a pleasure working alongside Striim to drive innovation in the manufacturing industry. Our customers are excited about new digital capabilities like the Striim Platform integrated with Microsoft Azure IoT technologies that can help transform their business."
Intelligent Edge Processing of IoT Data
Intelligent processing and analytics of IoT data at the Edge is possible through Striim's integration with the Azure IoT Gateway SDK in conjunction with the Striim Edge Server, as well as with Azure IoT Hub as a target. Both integrations support real-time pre-processing and analysis of massive volumes of IoT data in order to eliminate irrelevant data from moving upstream.
As IoT data volumes grow, filtering and pre-processing is crucial to avoid ingesting more data than can be processed. Edge processing enables companies to filter out repetitive and normal data, aggregate multiple data streams, and enrich data with context at the source, helping them extract the signal from the noise. Companies can also perform fast-path analytics and anomaly detection at the edge that can trigger events or actions in devices without having to reach the Cloud.
Advanced Cloud-Hosted IoT Analytics
Striim further integrates with Azure Event Hubs to enable fast post-analysis of IoT data in the Cloud. Striim is able to aggregate and correlate data from the Azure IoT Hub with contextual data and other real-time streams in the Cloud to deliver real-time intelligence. This intelligence can be used to determine faults in manufacturing processes or materials, anomalies in energy distribution, and inefficiencies in factory floor operations, for example. Pattern matching, alerting, workflow triggers, and continuous push-based visualizations ensure companies can immediately take advantage of this intelligence.
This week, over 250,000 visitors will converge on Hannover, Germany to discover the latest trends and solutions surrounding the Integrated Industry, Industrie 4.0 and Smart Factory. The foundation for this modern industrial revolution is the Internet of Things (IoT), which allows the direct connection of all production and logistics devices and processes. The objective is to make industries more intelligent, efficient and secure, none of which is possible without the real-time edge processing and cloud-based analysis of the whitewater flood of IoT data.
For more information regarding integration of the Striim platform with Microsoft IoT Azure technologies, please watch the video, subscribe to Striim solutions on the Microsoft Azure Marketplace, or download the Striim platform.
You may also wish to download Gartner's 2017 Market Guide to In-Memory Computing Technologies, and see why Striim is one of only a few vendors to address 4 out of 5 areas of In-Memory Computing, and the only vendor to do so in a single, end-to-end platform.
About Striim
Striim™ (pronounced "stream") is an enterprise-grade, real-time integration + intelligence platform. Striim makes it easy to create streaming data pipelines – including change data capture – for real-time log correlation, cloud integration, edge processing, and streaming analytics. Companies worldwide use Striim to deliver real-time analysis and visualizations for fraud/cybersecurity, customer experience/QoS, replication risk management, and Internet of Things (IoT) analytics. For more information, please visit www.striim.com, read our blog at www.striim.com/blog or follow @striimteam. The fully loaded Striim platform is also available for download.
####