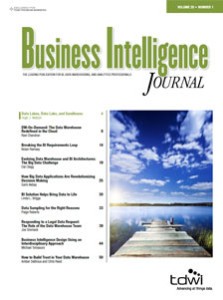 Read the recent TDWI Business Intelligence Journal article, How Big Data Applications Are Revolutionizing Decision Making, discussing the evolution of Big Data applications and how these apps are helping businesses make smarter choices. Take a closer look at practical use cases like predictive device management, same-store sales monitoring, realtime marketing, and security. See how Big Data applications offer businesses the transparency into their data and the realtime ability to see the big picture, fueling smarter decisions. With realtime applications, enterprises gain a competitive edge by harnessing the power of customer momentum to create the right action at the right time.
"Big Data applications are quickly becoming part of the fabric of corporate decision making. Now that business logic can be deployed to listen to your data streams in realtime, apps are being used to make semi-autonomous operational decisions. If you can model your scenario against your data streams (correlating, enriching, and filtering as needed), you can allow your big data applications to trigger other systems and events under specific circumstances," Sami Akbay, WebAction Cofounder and EVP.
TDWI Business Intelligence Journal: Vol. 20 No. 1
Download this issue and learn which data-related technologies are attracting more interest in the age of big data; learn about the intersection of technologies that allow us to work with data in the cloud; find out whether big data spells the end of traditional data warehouse architecture; and more.
Download the full article:
TDWI BI Journal: How Big Data Applications Are Revolutionizing Decision Making