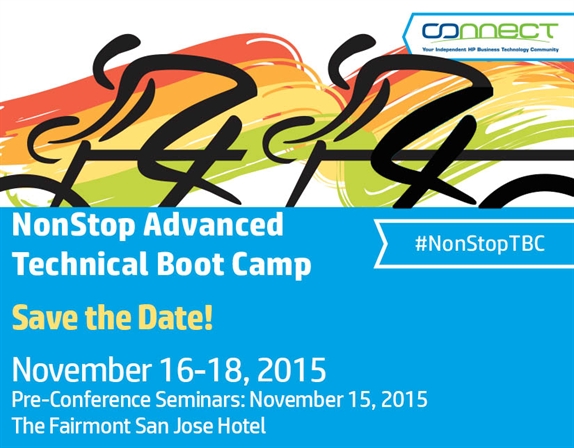 Striim is exhibiting and presenting at NonStop Technical Boot Camp 2015 November 16 – 18 at the Fairmont in San Jose, CA.
Cofounder and CEO of Pyalla Technologies, Richard Buckle, joins Justin Simonds, Master Technologist, Hewlett Packard Enterprise to present "From the Internet of Things to the Internet of Analytics" Monday, Nov. 16, at 9 a.m in the Gold Room.
Striim Founder and EVP, Sami Akbay, will present "From NonStop to the Cloud" Weds., 10:00 a.m. in the Garden Room.
Exhibit Hours:
Mon. 7:30 – 4:30
Tues. 7:30 – 5
Weds 7:30 – 12 p.m.
From the Internet of Things to the Internet of Analytics
Internet of Things (IoT) sensor data is moving from the hacker/hobbyist domain to become a mission-critical requirement. However more important than the "Things" generating the data is the Analytics that are derived from the data. This session covers the Internet of Analytics – discovering actionable insights from high-velocity streams of real-time IoT and transactional data.
IoT devices generate high volume, continuous streams of data that must be analyzed in-memory – before they land on disk – to identify potential fault conditions or business opportunities.
Transactional data can be enriched in real-time with IoT sensor information.
Companies need to build robust yet flexible applications that can instantly act on the information derived from analyzing their IoT data.
Learn how you can easily handle real-time data acquisition across structured and semi-structured data, windowing, fast in-memory streaming analytics, event correlation, visualization, alerts, workflows and smart data storage.
From NonStop to the Cloud
The offload to the cloud for analytics is well underway. Enterprises are copying their transactional data into data stores easily accessible for data scientists to explore. On-demand, scalable, and cost-effective, cloud destinations are quickly becoming the go-to solution for creating an analytics sandbox. Meanwhile hybrid on-premise, cloud architectures are continuing gaining acceptance, even in the most regulated environments. This creates a new problem to solve: streaming data integration.
The Striim Platform enables real-time change-data-capture replication of transactional data to your cloud. Transactional streams are integrated with other data streams on the fly for true real-time analytics, the moment your data is born. See how all of this is possible in the NonStop environment with Striim.
2015 NonStop Technical Boot Camp
Connect is at the forefront of today's open system leaders and is a true user-driven consortium of HPE customers and partners working with HPE's NonStop Enterprise Division. The 2015 NonStop Advanced Technical Boot Camp will begin with cutting edge deep-dive pre-conference seminars on Sunday hosted by the leaders of NonStop innovations and solutions, and will follow with three days of breakout sessions, keynotes, and networking receptions. Meet and learn from the developers, engineers, and executives that are leading the global NonStop community.