We are thrilled to announce that we have expanded our partnership with Google Cloud to offer GCP users a Database Migration Service to make it easier to move data into Google Cloud databases. With this migration service, users can quickly build streaming data pipelines to continuously move data from databases (such as Oracle, SQL Server, MySQL, and PostgreSQL) to Google Cloud targets (such as Cloud SQL for MySQL and PostgreSQL, and Cloud Spanner), all in real time.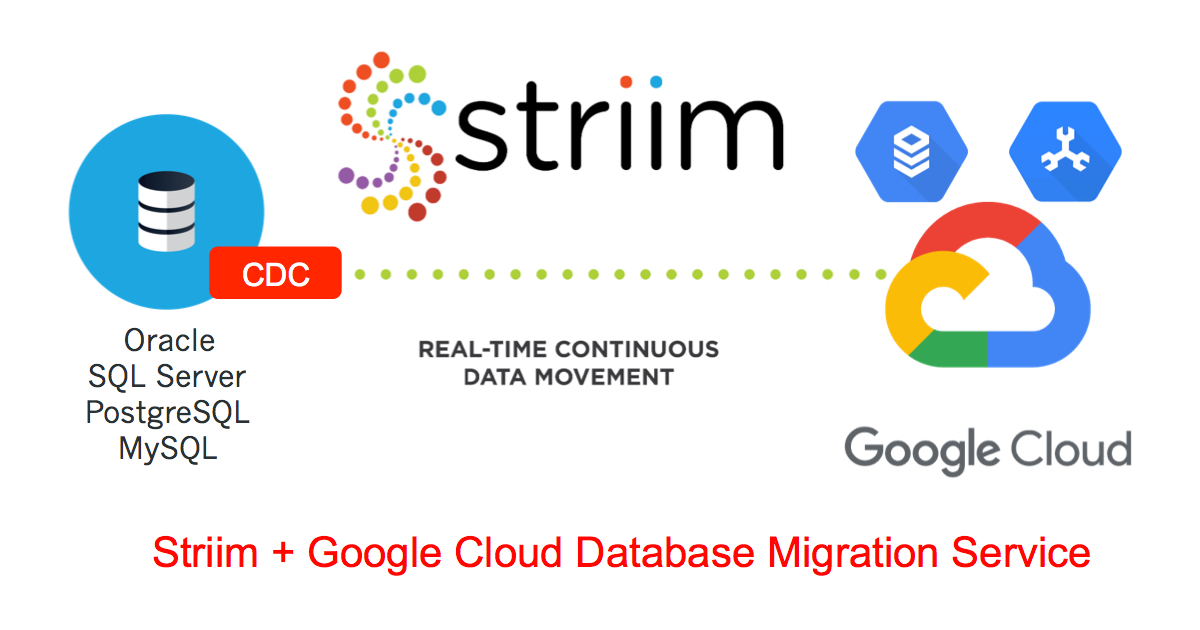 As workloads are increasingly moved to the cloud, streamlined database migrations are becoming a core requirement of database-related initiatives. The more critical the applications that are supported by these databases, the more important it is that these databases be moved in manner that avoids operational disruption and minimizes risk.
The goal for the Striim + Google Cloud Database Migration Service is to speed database adoption on Google Cloud Platform while ensuring scalability, availability of applications, and zero data loss. Users are able to get started in minutes leveraging Striim's intuitive wizards-based development, SQL-based queries, and UI-driven operators.
Striim has numerous implementations across industries in which its real-time streaming data pipelines are enabling online or phased migrations of on-premises databases to GCP databases. By continuously replicating data between on-premises and GCP databases, the Striim + Google Cloud Database Migration Service allows online migrations where mission-critical applications continue running without incurring downtime. With continuous delivery validation, the solution also eliminates any risk of data loss.
For a limited time, Striim and Google are offering a Free 3-month Database Migration Service to qualified GCP customers. To apply for this free service, please visit https://go2.striim.com/download-free-trial.
For more information regarding the Striim + Google Cloud Database Migration Service, please read the press release, visit our Striim for Google Cloud Platform product pages, or provision Striim on the Google Cloud marketplace. Or stop by to chat with the Striim Team this week at Google Next in San Francisco, booth # S1605.