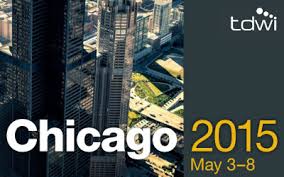 We hope to see you at the TDWI Chicago 2015 conference May 4 – 6 to learn more about your realtime stream analytics use cases. Visit booth (#303) to meet the WebAction team, register to win an Apple Watch, and learn to harness the power of our game-changing, comprehensive, realtime stream analytics platform for:
Realtime contextual marketing offers – providing complete correlation of live and historical data
Operational intelligence – such as SLA monitoring and handoff assistance between WiFi and cellular
Issue aggregation and isolation – with drill downs and live dashboarding
Predictive remote device monitoring and management
TDWI Chicago 2015
The event will take place take place at the Hilton Chicago on Michigan Ave. The conference theme is New Data Ecosystem. Data strategy becomes increasingly complex in the era of hybrid data ecosystems. The once relatively simple world of relational, dimensional, and columnar databases now extends to NoSQL, NewSQL, graph databases, and much more. Defining and implementing data architecture that integrates new data types without disrupting the existing data ecosystem raises many questions about big data, data hubs, data lakes, data virtualization, etc. What is the role of each data management approach and do they fit together in a cohesive data ecosystem? This conference offers 14 full- and half-day classes to help you separate hype from reality and get started designing your new data ecosystem.