We are thrilled to receive our second award as one of the best/top/coolest places to work in the Bay Area. This time, we received the #1 ranking in the Small Business category of the 2017 Top Workplaces annual list, presented by the Bay Area News Group, the largest publisher of newspapers in the San Francisco Bay Area, including its flagship the San Jose Mercury News.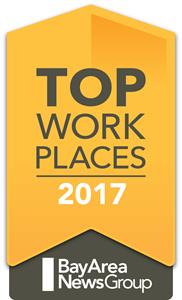 See the full list of Top Workplaces 2017 Winners in the Small Companies category.
This award is not an easy one to come by. There are strict guidelines for participation, and the winners are selected based only on direct feedback from our employees about our company culture.
Without sounding like every other startup, we do work hard and play hard at Striim. We have phenomenal product that solves the complex needs of our customers, and a great team that really respects each other. Everyone here is so bright – it makes for a fast-paced and stimulating environment.
Our company takes care of employees basic needs with outstanding benefits options, free meals, fully stocked kitchen, and flexible work schedules. For fun, there's daily ping pong, frequent happy hours, a huge holiday bash, and regular all-company parties and team building outings.
As I mentioned, this is the second time in as many months that we've received recognition as being an awesome place to work. In April, Striim was ranked #6 Best Place to Work on the 2017 Bay Area Best Places to Work list, presented by the San Francisco Business Times and the Silicon Valley Business Journal.
Read more about our awards and industry recognition.
We would like to thank the Bay Area News Group for this prestigious recognition. We are excited to continue to make Striim one of the top workplaces in the Bay Area (and beyond).