Since announcing our Series C fundraising led by Goldman Sachs we doubled down on our mission to enable companies to power their decisions in real-time, and after a year in private preview, collecting feedback from customers, testing workloads and tweaking and adjusting, we're thrilled to announce the public launch of Striim Cloud: the industry's first and only unified data streaming and integration fully managed service. Striim Cloud was uniquely designed to address the challenges of enterprise data streaming with an emphasis on our best-in-market change data capture, fully dedicated infrastructure (no shared data for sensitive environments), and seamless interoperability with on-premise and self-managed versions of Striim.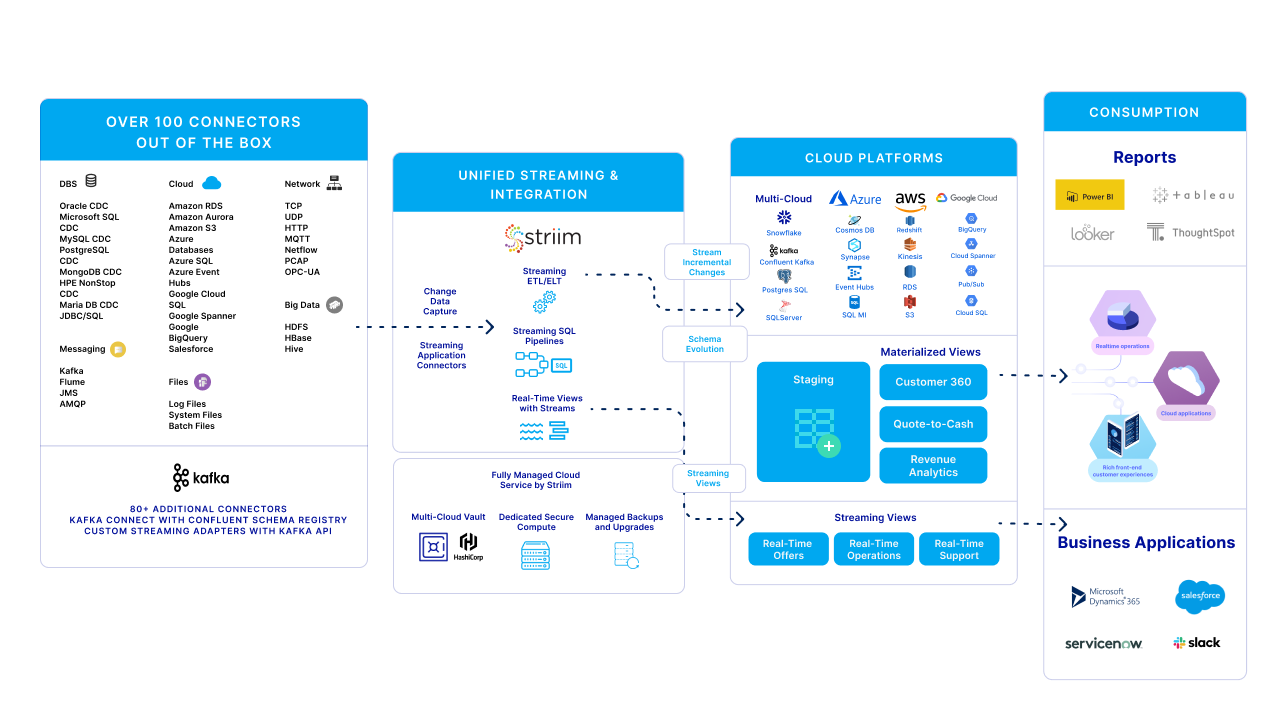 Unlike other solutions in the market, Striim Cloud leverages over 5 years of experience gained from delivering our self-managed, massively scalable streaming platform to over 100 enterprise customers and 2500 deployments in 6 continents. Striim is also led by the executive team behind GoldenGate Software.
The power of Striim Cloud is also a result of collaborating closely with incredible partners like Microsoft. "Microsoft is committed to making migration to Azure as smooth as possible, while paving the way for continuous innovation for our customers. Our goal is to build technology that empowers today's innovators to unleash the power of their data and explore possibilities that will improve their businesses and our world," said Rohan Kumar, Corporate Vice President, Azure Data at Microsoft. "We are pleased to work with Striim to provide our customers with a fast way to replicate their data to the Azure platform and gain mission-critical insights into data from across the organization."
With that collaboration, we've made Striim Cloud available with consumption-based pricing on the Azure marketplace. Microsoft Azure customers can leverage existing investments in the Azure ecosystem to power digital transformation initiatives with real-time data.
With Striim Cloud we're offering unprecedented speed and simplicity with the following value-adds:
Fast setup with schema conversion and initial load into your analytics platforms
Low impact change data capture built by the team from GoldenGate
Meet fast data SLAs (sub-second delivery) with fast data streaming and end-to-end lag monitoring
Low cost of ownership with fully managed, fully dedicated cloud infrastructure by Striim
Enterprise-level security with encrypted data at-rest and in-flight
Consumption-based pricing; pay only for the data you successfully move from source to target and the compute you need in that moment
But don't take my word for it, sign up for a free trial and start powering your decisions with real-time data.