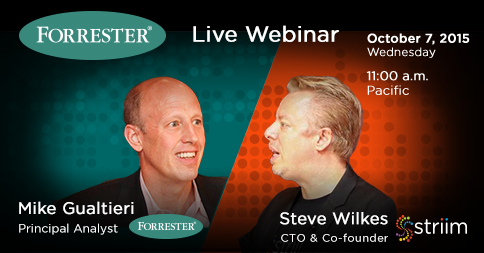 Please join us to learn how collecting data the instant it's born, and pre-processing it in memory (that is, pre-Kafka, pre-Hadoop, pre-disk), can help you tap into your gold mine of perishable insights.
Mike Gualtieri, Forrester Research Principal Analyst, is one of the world's most renowned and respected analysts in the area of Streaming Analytics. He developed the de facto definition of Streaming Analytics over a year ago, and, with Forrester Research behind him, truly has his pulse on the evolution of this key enabling market.
We are honored to present with Mike as our guest speaker in our upcoming live webinar:
Wednesday, Oct 7
11am PDT / 2pm EDT / 6pm GMT
As data volumes and variety increase, many enterprises are struggling to get the timely insights they need to take care of their customers and grow their business. Why?
All their data is getting dumped into a data lake without any filtering or organization, making it too costly to get the insights back out.
Understanding and collecting streaming data from many different sources –including databases, IoT devices, and the numerous different logs scattered around the enterprise – is difficult.
There aren't enough hard-core developers available to wire together the myriad of commercial and/or open source technologies necessary to make sense of all of their data before it lands on disk. (And it still might not work at scale.)
Join Mike Gualtieri and Steve Wilkes, Founder/CTO of the Striim platform, to look at a new approach to Big Data Streaming Analytics.
https://youtu.be/U1KhWZhFhME