Not to brag, but since we literally wrote the book on data modernization with streaming data integration, it is our pleasure to provide you with a guide book on using streaming ETL for Google Cloud Platform. This eBook will help your company unleash innovative services and solutions by combining the power of streaming data integration with Google Cloud Platform services.
As part of your data modernization and cloud adoption efforts, you cannot ignore how you collect and move your data to your new data management platform. But, like adopting any new technology, there is complexity in the move and a number of things to consider, especially when dealing with mission-critical systems. We realize that the process of researching options, building requirements, getting consensus, and deciding on a streaming ETL for Google Cloud is never a trivial task.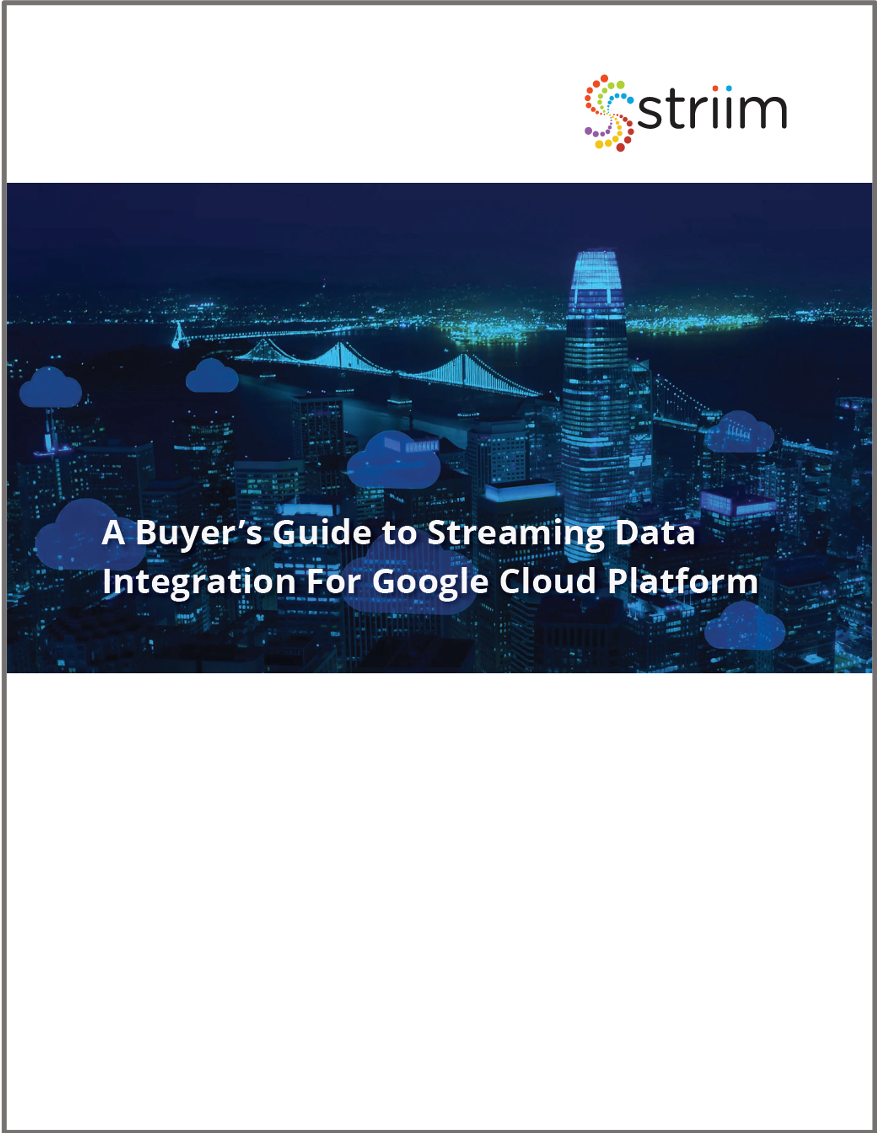 As a technology partner of Google Cloud, we, at Striim, are thrilled to invite you to easily tap into the power of streaming ETL by way of our new eBook: A Buyer's Guide to Streaming Data Integration for Google Cloud. If you've been looking to move to the Google Cloud or get more operational value in your cloud adoption journey, this eBook is your go-to guide.
This eBook provides an in-depth analysis of the game-changing trends of digital transformation. It explains why a new approach to data integration is required, and how www.striim.com/blog/2020/01/streaming-data-integration-whiteboard-wednesdays/">streaming data integration (SDI) fits into a modern data architecture. With many use case examples, the eBook shows you how streaming ETL for Google Cloud provides business value, and why this is a foundational step. You'll discover how this technology is enabling the business innovations of today – from ride sharing and fintech, to same-day delivery and retail/e-retail.
Here's a rundown of what we hope you'll learn through this eBook:
A clear definition of what streaming integration is, and how it compares and contrasts to traditional extract/transform/load (ETL) tools

An understanding of how SDI fits into existing as well as emerging enterprise architectures

The role streaming data integration architecture plays in regards to cloud migration, hybrid cloud, multi-cloud, etc.

The true business value of adopting SDI

What companies and IT professionals should be looking for in a streaming data integration solution, focusing on the value of combining SDI and stream processing in one integrated platform

Modern SDI use cases, and how these are helping organizations to transform their business

Specifically, the benefits of using the Striim SDI platform in combination with the Google Cloud Platform
The digital business operates in real time, and the limitations of legacy integration approaches will hold you back from the limitless potential that cloud platforms bring to your business. To ease your journey into adopting streaming ETL to Google Cloud, please accept our tested and proven guidance with this new eBook: A Buyer's Guide to Streaming Data Integration for Google Cloud. By following the practical steps provided for you, you can reap the full benefits of Google Cloud for your enterprise. For further information on streaming data integration or the Striim platform, please feel free to contact us.