STRIIM BLOG
WebAction Exhibiting at Strata Conference + Hadoop World in New York
>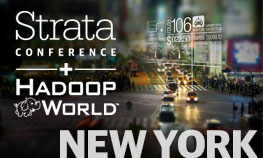 Join WebAction October 16th and 17th for the Strata Conference + Hadoop World 2014 in New York, NY. The conference will be held at Javits Center, Expo Hall hours are Thursday 10:30AM – 5:45PM with a reception 5:45PM – 7:15PM and Friday 10:30AM to 4:15PM. Come by our booth (#558) Expo Hall to check out our Real-time App Platform and experience the future of Data Driven Apps.
Strata Conference + Hadoop World
Strata + Hadoop World is where cutting-edge science and new business fundamentals intersect—and merge. It's a deep-immersion event where data scientists, analysts, and executives get up to speed on emerging techniques and technologies by dissecting case studies, developing new skills through in-depth tutorials, sharing emerging best practices in data science, and imagining the future.
The conference will span October 15th-17th with speakers, tutorials, networking opportunities, and almost 200 sessions exploring the latest advances, case studies, and best BI practices. "Strata + Hadoop World in New York is where big data's most influential business decision makers, strategists, architects, developers, and analysts gather to shape the future of their businesses and technologies. If you want to tap into the opportunity that big data presents, you want to be there."
Register here to see the various packages available for Strata Conference and Hadoop World. 

See other upcoming WebAction events.
Getting started is easy.
Sign up for a free trial or talk to a cloud integration expert.