STRIIM BLOG
Striim Launch Event at TDWI San Diego 2015, Sept. 22-23
>
We hope to see you Tuesday at TDWI San Diego 2015, at the Manchester Grand Hyatt where we will be debuting the fall release of our new platform, Striim. Come try your luck at the Geek Gadget Giveaway featuring a dozen gadgets, including smart watches, Bluetooth Speakers, a mini drone, and Kindle all locked in an acrylic box. Swing by the Striim booth #208 to claim your key — if it unlocks the box, you pick your choice of prize. While you are there, get your streaming data integration and stream analytics questions answered by our lead technologists.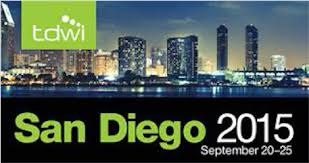 Exhibition Hours:
Tuesday 9/22 Exhibit Hall open 11:15am-2:15pm, 5:00pm-7:00pm
Wednesday 9/23 Exhibit Hall open 12:00pm-2:00pm
Striim Launch Event: Guest Speaker Forrester Principal Analyst, Mike Gaultieri
Join guest speaker Mike Gaultieri, Forrester principal analyst Tuesday night at 7:00 PM in the Manchester Grand Hyatt Harbor Ballroom. He will be covering Big Data strategy, and the Striim Team for a look at the evolution in the requirements for streaming analytics, and how a new focus on integration changes the landscape. Guests will have the option of building their own custom, end-to-end streaming data integration and operational intelligence application in minutes at the event. Cocktails and a light supper to be served overlooking the beautiful San Diego Harbor.
Striim Platform
In order to solve the real-time streaming analytics problem, you must first solve the streaming data integration problem. Striim is an end-to-end streaming data integration and operational intelligence platform enabling continuous query/processing and streaming analytics. With Striim, you can get to know your data – and sort out what's important – the instant it's born.
Striim specializes in multi-stream integration from a wide variety of data sources including transaction/change data, events, log files, application and IoT sensor data. Add structure, logic and rules to streaming data. Define time windows for analysis. Detect outliers, visualize events of interest, and trigger alerts and automated workflows – all within milliseconds.
Getting started is easy.
Sign up for a free trial or talk to a cloud integration expert.