STRIIM BLOG
Striim Joins the TDWI Las Vegas Panel: Solving the Challenges of Making Analytics Pervasive
>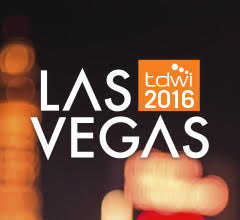 We hope to see you at Ceasars Palace for TDWI Las Vegas February 1st. Steve Wilkes, Striim Founder and CTO, joins David Stodder, TDWI Director of Research for Business Intelligence, for the Panel Discussion: Solving the Challenges of Making Analytics Pervasive. The Panel will be held Monday 2/1 at 2:45 PM at the Executive Summit, where Stodder and TDWI Sponsors will consider the potential of streaming analytics as it plays an increasingly prominent role in BI.
This panel discussion will focus on solving the interlocking people, cultural, practice, technology, and architectural issues that arise when firms seek to become more fully data- and analytics-driven organizations.
Striim Exhibiting at TDWI Las Vegas
Join the Striim Team at booth #213 for a live demo and discuss your streaming analytics needs with one of our lead technologists. While you are there, don't forget to claim your Key for the Geek Gadget Giveaway, an acrylic box holding a dozen cool gadgets including smart watches, wifi speakers, and quadcopters. If you pick one of the lucky keys from the fishbowl, choose the prize of your choice!
Expo Hall Hours:
Tuesday 2/2 11:15am-2:15pm, 5:00pm-7:00pm
Wednesday 2/3 12:15pm-2:15pm
Getting started is easy.
Sign up for a free trial or talk to a cloud integration expert.