STRIIM BLOG
Realtime Player Tracking for Super Bowl XLIX (2015)
>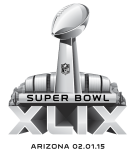 The NFL and NBC will be offering realtime player tracking for Super Bowl XLIX (2015) (that's #49 for those who haven't memorized the Roman numeral system). During Super Bowl XLVIII (2014) Fox enhanced their broadcast using a realtime system based on multi-camera player video tracking from ChyronHego (TRACAB video technology acquired from SAAB). The 2014 season sees a new NFL partner in Zebra Technologies, using an RFID infrastructure that implements an Internet of Things (IoT) model, where the "Things" are players.
After a successful deployment of Zebra's MotionWorks™ technology in 17 stadiums during the 2014 season (Atlanta, Baltimore, Carolina, Chicago, Cincinnati, Denver, Detroit, Green Bay, Houston, Jacksonville, Miami, New England, New Orleans, Oakland, San Francisco, St. Louis and Washington), Zebra Technologies is continuing to work with the NFL to offer player tracking in the post-season.
Zebra's ground-breaking technology will be experienced by a global audience during the Pro Bowl and Super Bowl XLIX, producing even greater player insights and new ways to enjoy the game. – Zebra Technologies
Primarily intended to support the broadcasters, MotionWorks™ tracks 2 RFID chips that sit under each player's shoulder pads and relays that data back to their central processing. 2 chips means that player orientation can be easily identified. This level of detailed individual tracking allows new forms of realtime analytics during the game. Some of the specifics that Zebra discusses on their website:
As "The Official On-Field Player-Tracking Provider" of the NFL, we capture high-speed player data and convert it into real-time, usable statistics. Imagine the playbook redefined with every snap.

Tags on players track vital stats, indoors and out, to within 6″.

Coaches use motion data to change their game.

Algorithms aggregate players' stats and display them in real-time.

Easy integration with graphics systems, for both live broadcast and replay.

Real-time stats on players create a deeper fan experience.

Training applications visualize player data, making practice more powerful.
Taking the NFL and Zebra RFID to the Next Level
Zebra Technologies is a global leader in barcode printing and realtime locating systems, such as RFID. What if Zebra used a powerful realtime stream analytics platform to serve up new insights and nuances to feed über fans insatiable appetite for game stats? The data can provide innovative detailed comparative analysis: players speed, distance per player, the power behind each tackle, and ball handling time, just to name a few. And what if you could correlate this data with other sources like biosensors or iBeacon to promote sales of a player's gear immediately after he makes a big play? Correlating and aggregating from multiple sources brings a whole new level of understanding and pattern recognition to our world and this is where the WebAction platform comes into play — processing high-velocity big data analytics in realtime.
Realtime NFL Player Stats for the Masses?
Currently the NFL is using this technology to create a more immersive broadcast experience, but I can imagine (and hope) that at some point in the near future the NFL makes this data available to the masses. Can you imagine the fantasy league options if we had realtime player analytics? As I think about it, there may be a technical hurdle of handling the data pushed out to the public, but this is an area where WebAction can help. Our platform could handle the throughput, syndication, security, core aggregation and correlation for easy to use data flows for the fans. Given the passion of the fan-base, I'm sure we would see some pretty wild live sports analytics apps!
Football Realtime Player Tracking Circa 2014: Zebra Technologies
https://www.youtube.com/watch?v=Sdx6E1bkYAk
Getting started is easy.
Sign up for a free trial or talk to a cloud integration expert.