STRIIM BLOG
Key Takeaways from Strata NY 2018
>
Striim both sponsored and exhibited at Strata NY, engaging with industry professionals about emerging technologies and practices in the data community. Based on some of the great conversations I had, as well as the news coming out of the show, my key takeaways from Strata NY 2018 all center around just how important streaming integration is for enabling many of the key data trends.
The three major themes at Strata were machine learning, hybrid cloud architectures, and new generations of data warehousing powered by technology like Apache Kudu. What all of these have in common is, how do you put them into action?
Whether it is adopting hybrid cloud services for elastically scalable solutions, utilizing machine learning to optimize business operations, or leveraging fast analytics for instant insight, they all rely on one thing: moving away from batch-oriented architectures to streaming technologies, as well as integrating new and legacy resources.
And this is the very essence of Streaming Integration.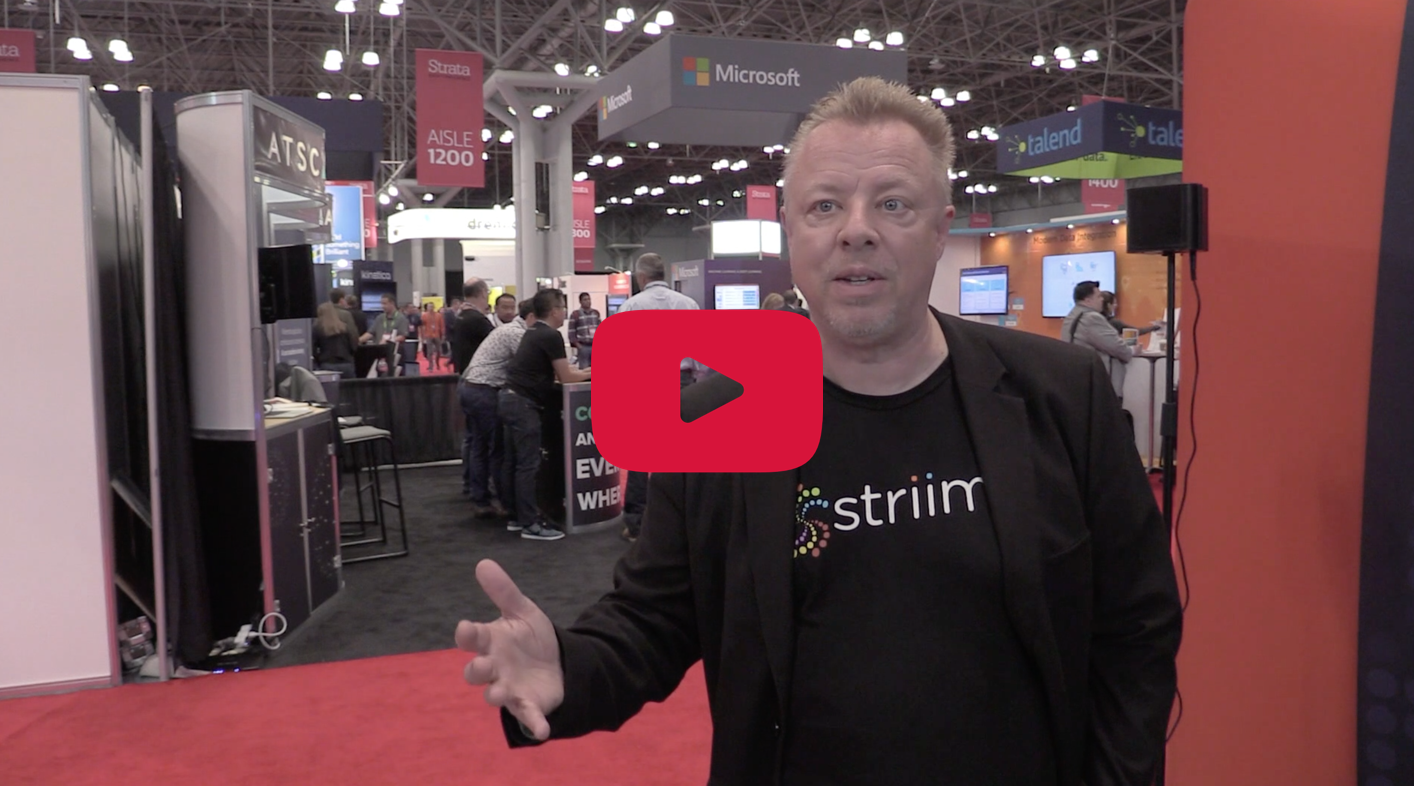 Striim and Strata – On the Same Page
We made several key announcements during the show that aligned extremely well with the direction that enterprise companies are gravitating towards, and need help with.
Organizations are looking for easier ways to adopt hybrid cloud solutions. At the show, we announced that Striim expanded integration capabilities for the Microsoft Azure cloud environment. Striim now enables organizations to move continuous, real-time data from a variety of sources to Azure Cosmos DB and Azure Database for PostgreSQL. To learn more about this, read our press release, "Striim Expands Integration with Microsoft Cloud Services, Solutions."
Additionally, we announced expanded integration with Google Cloud Platform. Striim can now help move real-time data from a number of sources to Google BigQuery and Cloud SQL for PostgreSQL and MySQL. Read the news for more, "Striim Expands Integration with Google to Move Real-Time Data to Google Cloud Platform."
Finally, in support of our Cloudera partnership, we announced further integration capabilities for Apache Kudu that now include continuous data validation for stream processing and delivery to Kudu. With Kudu being utilized for fast analytics based on its low-latency architecture, this is important for users to attain reliable real-time insights. Additionally, Kudu's tagline is "fast analytics on fast data." But how do you get fast data in the first place? You need a streaming integration platform like Striim for that to happen. Read the press release: "Striim Bolsters Integration with Apache Kudu."
Striim already has successful implementations for operationalizing machine learning. You can learn more about the approach in our blog Operationalizing Machine Learning Through Streaming Integration, which includes a sandbox and instructions so you can follow along at your own pace.
Wrapping up my key takeaways from Strata NY, in order to adopt many of the new technologies showcased at Strata, and gain real business value from their data, organizations need to adopt a streaming data architecture, and that came through extremely clearly at the show. Striim is on the cutting edge of enabling organizations to move their data in real-time, from a variety of locations, so they can adopt hybrid cloud solutions, utilize environments that support fast analytics, or confidently move forward with whatever modern technologies they're looking to pursue.
To learn more about our platform's streaming integration capabilities, please visit our Real-Time Data Integration page, schedule a demo with a Striim expert, or download our platform and try it for yourself!
Getting started is easy.
Sign up for a free trial or talk to a cloud integration expert.